micke-midlife on May 2nd, 2010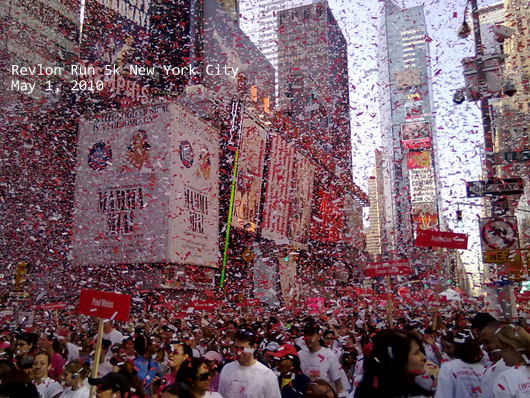 While strolling in Central Park on Friday (30.04.) the queen discovered signs that hinted towards a running event the next day. A few clicks on Opera Mobile later it turned out that New York is hosting a neat 5k event the next day. The entertainment industry foundation is in its support of the eradication of cancers in women calling for "womentum" (= an inspirational force gained over a distance of 5 Kilometers applied to the eradication of cancers in women). Hm, if this force gained over 5k can do that, what would the force gained over a 10k do, kill mankind? Well, ehm, yes… we're in the US, right? And symbolism is big here. But it felt good to shell out USD 35 for this one. And men were allowed as well. Of course, with those celebrities on stage before the start, it was mainly men glaring towards it, Jessica Biel, Jessica Alba, Haile Berry, what can you say, not a bad start for a Saturday morning in the beginning of May.
Since we arrived pretty early at the venue, there was still sufficient space in the front rows of the starting field, which turned out as inevitable in order to run. The majority of the over 25.000 participants were demonstrating their fight against cancer by walking. After about 200m there were two guys pretty much alone upfront storming up 7th Ave, hundreds of people cheering from the sidelines and the car with the clock and a film camera in front. Not a bad way experiencing NYC, especially if you're one of the two guys. Thomas Catalano, a track and fielder from a Kentucky high school wished me good luck, "I can need it" I replied.
Already after the first mile, in 6:02 min, it dawned that the measuring of the distance isn't quite IAAF certified and probably not the main concern of the organizers. Thomas kept the pace constant, I felt the weight of the muffins that I enjoyed during the first days of this NYC visit starting to drag me down. Took it a bit easier after about 3k. Thomas finished first in 19:12min, I followed as second in about 19:3omin. Now, this time for an exact 5k would be pretty bad, even with 50 muffins and a burger inside. A quick measurement with the pedometer revealed that the course is closer to 5,5k, which translates to a sub 3:35min/km pace. That's a good training.
The whole thing was a great experience, rather large event, the streets of central Manhattan and Central Park all for yourself, the sun shining at about 20-25 Celsius, the latest innovation of sweet tasting sugar-free water after the finish and second place. Not too bad.