micke-midlife on March 23rd, 2009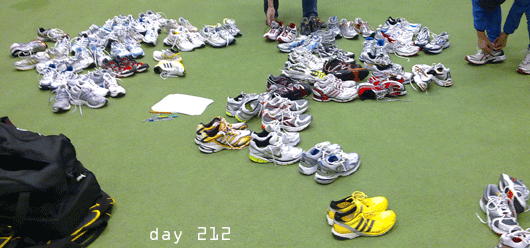 this second part of racing flats listing consists of shoes from Puma, New Balance, Saucony and Brooks. In part I there were answers from company reps of Adidas and Asics, here we just got in some comments from Puma. Nike never really cared to answer. At least not in the last 4 weeks. Btw, I made a move and bought a pair of Adidas adizero Adios at an Internet retailer in the UK. First thought to get them from the US, since a friend was just over there. But then they were hard to find in the high street shops, there's hip hop stuff, but race gear isn't that hip (and even less hop). The Adidas online store had them actually for USD 77 on offer but with sales tax and shipping it was about USD 100 and you still needed an US registered credit card. The UK option was GBP 70 at Wiggle including shipping to Finland and it's all within the EU. Now we can just hope they get really shipped. But let's get back to the topic.
Puma Complete Concinnity III

A good shoe for neutral runners to light over-pronators. A light weight trainer for training and racing that provides a bit more of stability than most racing flats. The firm, low-to-the-ground Concinnity has a wider forefoot fit and a softer midsole. The heel is a bit more rounded, which helps the foot land more smoothly, and the midsole foam extends back under the arch so the sole remains in contact with the ground through the gait cycle. weight 285g

€110, $95, £65

Puma Complete Roadracer III

For speed training and racing. The Complete Road Racer III is a very fast shoe made specifically for the midfoot/forefoot runner. The idcell cushioning system that Puma uses is in the heel and forefoot and you can really feel it. This is a great fitting shoe as the upper is snug but not too snug. The torsional rigidity does give this shoe some stability but is still considered a "Neutral" shoe. weight 185g

€100, $99, £–

New Balance RC152EOB

Running shoe built for the neutral to under-pronator who requires lightweight cushioning. The RC152 is a "no holds barred" competitive racing flat some sitesrecommend it only up to a half marathon. The ACTEVA™ Midsole increases resistance to compression set. while the N-LOCK® integrated lacing and webbing system delivers the optimal fit, support and security.Blown rubber outsole. weight 160g

€90, $60, £55


New Balance RC205WR

Responsive racing flat made for distances up to a marathon. Better shock absorption than the RC152 seen in the heel through the ABZORB® SBS; system Homogeneous foam cell structure resistant to compression set seen in the midsole through the ACTEVA® feature. Synthetic/mesh upper provides a lightweight and supportive shoe. weight 220g

€90, $80, £55

Saucony Grid Type A2

Grid Type A2 is a lightweight racing flat. Features a smooth transition through gait cycle. Lightweight breathable mesh upper is designed with supportive overlays for an enhanced fit. SSL EVA allows for excellent rebound and durability. XT 900™ carbon rubber outsole material offers exceptional traction properties without sacrificing durability. Reviewers love the nice fit. Nothing is commented on the support though. weight 195g

€85, $65, £60

Saucony Grid Kilkenny XC2 Flat

The Saucony Grid Kilkenny XC2 racing flat brings the perfect fit, feel and attitude every cross-country runner needs. Synthetic overlays lock down the foot through turns. Reviewers only complained a sub-optimal ventilationa and one guy who played volleyball with it said it wore off quite quickly (well, it's kind 'a made for running…) weight 185g

€–, $40, £25

Saucony Shay XC Flat

The Saucony Shay XC Spikeless racing flat brings the perfect fit, feel and attitude every cross-country runner needs. The premium sockliner provides lasting comfort, while the SSL EVA midsole maximizes rebound and minimizes weight. The XT-600 carbon rubber outsole offers abrasion-resistance and exceptional traction on a variety of surfaces. weight 180g

€–, $55, £70

Brooks Mach 10 Spikeless

The fastest of Brooks' flats, the Mach 10's spikeless twin is engineered for speed, support, and superior cushioning. Lightweight and breathable with extra width at the base for enhanced stability, this shoe is versatile and nimble. Ideal for cross and track. Availability seems to be limited to the US and online mainly. weight 160g

€–, $40, £–

Brooks T6 Racer

This shoe weighs practically nothing making it super fast! As this shoe is a very lightweight, minimal support racing flat, the vast majority of runners will not find it "enough shoe" for a full marathon. If you have a light frame and a biomechanically efficient stride, however, you may be able to get away with it. We suggest you work up to it in several half marathon-plus races beforehand to see how it works for you before running in it for a full marathon. weight 170g

€60, $85, £45

Brooks Racer ST 4

The Racer ST 4 has enough substance to conquer the marathon but light enough for the 5K. The light weight racing flat will help you shave seconds or even minutes off your time while the DRB will provide you the support needed to break the tape feeling strong. weight 245g

€90, $90, £–
Quite a list of shoes. The brief shoe descriptions above are mixtures from product briefs, user reviews and comments from company reps. Hence they are not all on the same level. The main idea here was to tell that the respective models exist, provide some hard data such as weight, price info and looks and some qualitative comment through the description. We all know that your purchase decision should be based on more than this shallow list (or you just throw enough money around and get yourself several pairs, then just don't forget to comment here on the models you got

).
For those of you living in Finland or who understand Finnish Old Horse has some of the above mentioned models at a discount in store for you, they do mail order, too.
See part I for 2009er racing flats from Adidas, Asics and Nike
today's training: strength oly, no run, still resting from the flu
Tags: race shoes