micke-midlife on March 13th, 2009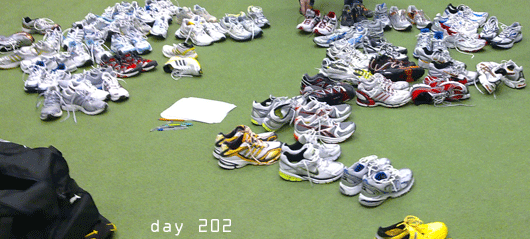 as earlier promised, a compilation of racing flats. Since it's quite tedious to skim through pictures and reviews and understand which ones are this years models and so on, the compilation is split into a couple of parts, this one being the first.
Racing flats (aka performance shoes or competitive running shoes) are mostly for neutral feet, i.e. with overpronation your choice is made much easier

I myself have tried a couple of the pairs below and my personal favorite is the adizero adios. It provides a real good feel of the ground you run on and it's upwards round shaped nose gives a effortless "rolling" movement to your running. Further, you find below approximate price information from different currency zones. Just to provide some transparency. The price information is taken from internet retailers that are found through a quick google search and has a rather short lifespan of course.
adizero adios

Marathon, half-marathon or a quick 10k, for the fast ones, Haile uses this shoe, more of a sock as Adidas describes it. My own brief test review above. weight 211g

€96, $110, £60

adizero Tempo

For training and racing, by many runners described as their choice due to good fit and support elements + FormotionTM cushioning in the heel area, best grip and long lasting material, weight 264g

€100, $110, £70

adizero Boston

A long distance training shoe, very similar to the tempo, but without the heel support element, weight 272g€96, $90, £63

adizero RC

The RC is the pendant to the Adios but with a thicker intermediate sole, hence a better suspension, weight 231g

€92, $50 (an older model), £63

adizero ProThe shoe is definitely cut out for fast running. If you are in need of protection you need to be realistic - there is only so much that can be packed into 185g so don't expect huge levels of cushioning of support. The fit is snug, and, of course, the responsiveness is great.

€120, $80, £72

adizero Ace

These flats offer an more support than usual racing flats. For people who overpronate it is sometimes hard to find a pair of flats that work. This pair can be recommended if you want some support for overpronation while racing.

€–, $80, £50

Asics Gel DS Racer VII

Good for fast 5k's to marathon. You are not going to get a huge amount of cushioning but a medial post means you do get more support than in many shoes at this type of weight. Lasts for 600 - 800km (says Asics), weight 203g

€100, $–, £68

Asics Piranha SP 2

Very, very, very, very lightweight, although Asics says you can do marathons in it, I read reviews where people chose not to. Lasts for 600 - 800km (says Asics). weight 134g

€130, $105, £–

Asics Gel Speedstar 3

Snug fit and a redesigned outsole pattern to reduce weight yet retain durability. Good shock dispersion with full-length cushioning foam directly under the sockliner and Gel pads in the heel and forefoot. Recommended for runners with normal to high arches looking for a lightweight shoe for speed training or racing. Lasts for 800 - 1000km (says Asics). weight 278g

€100, $65, £60

Nike Lunar Racer+

A lot of material technology should give this shoe flexibility but still provide support and cushioning in the lower parts. Many like the shoe, recommendations go up until 80kg body weight. My feeling when running accelerations with it was that it doesn't provide sufficient support to the foot and the cushioning gives an "imprecise" touch to the underground. weight 165g

€130, $100, £75

Nike Zoom Victory+

Like the Lunar Racer+ made of FlyWire material on the topdamn, I'm too tired now and tomorrow's a race. Good nightWeight 270g

€80, $80, £40

Nike Mayfly

again a very, very, very light weigt shoe. It's a bit of a gimmick shoe. Nike wants to try something new, the disposable or keep-it-as-a-trophy shoe. It's made for competitions because it only lasts max two marathons. You do a personal best, you write it into the box on the side of the shoe, you didn't do a PB, you toss th eshoe away. It's made of tyvek (whatever that is), but there have been incidents reported when this shoe tore apart in the middle of a race. weight 135g

€40, $40, £20
The competitive runner also has a list of racing flats with reviews and ratings.
The next part here will cover racing flats from Puma, Brooks, New Balance and Saucony. In case you have additional details/opinions to the models above or have a suggestion for other models to include in the next part, just make yourself heard and fire away in the comments below.
See part II here for 2009er racing flats from Puma, Saucony, New Balance and Brooks
today's training: 50mins relaxed running, 11.5km + 4 accelerations
Tags: race shoes