micke-midlife on March 20th, 2009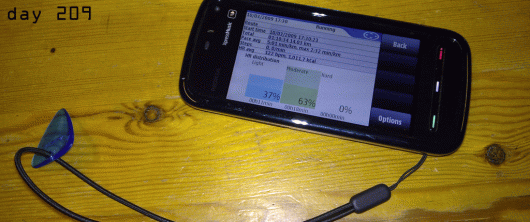 click the picture to enlarge
Nokia released today the Sports Tracker application for S60 5.0. There's right now only one device with that version, the Nokia 5800 XpressMusic. So what's the big deal here? Of course, the app had to be re-done to adjust to the touch UI input paradigm. The Nokia 5800 XpressMusic has a resistive touch user interface, hence applications that were developed for earlier S60 handsets with a T9 or qwerty keyboard need to be adjusted to this different user input mechanism. Both elements on the user interface need to become active areas and the whole layout so that you can use it with your fingers requires modifications.
In case of the Sports Tracker application the layout differs surprisingly little. So if you're familiar with the version for older S60 versions, you will find everything very familiar. The screen is larger and in landscape mode (I prefer the sports tracker app in that mode) there are those soft key buttons on the screen on the right, as in the picture above.
Touch interface wise all functional buttons and parts on the UI are well sized and can be well controled from your finger tip. Very nice is flipping through the summary screens of a workout by using a gesture where you glide your finger vertically over the screen surface. The only place for improvement is the calendar view. For my taste there are too many weeks (rows) displayed and that lets one day become a bit of a small area.
We'll go running with it tomorrow, let's see how the Nokia 5800XpressMusic device fares compared to the previous ones, especially the Nokia N79.

For now here the link to download the app (for the S60 5.0, i.e. right now the Nokia 5800 XpressMusic only, later on the Nokia N97 as well)
Tags: nokia sports tracker