micke-midlife on April 6th, 2009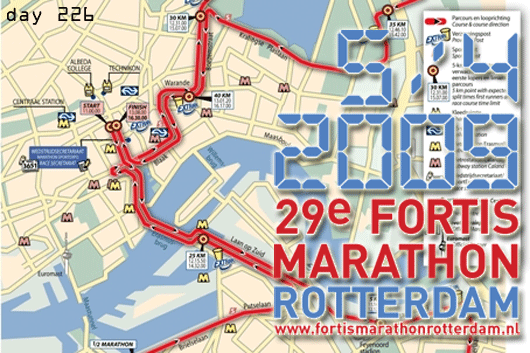 Rotterdam Coolsingel, the main street in the city center, 9:45am, there are already hundreds of people walking around here and there in the starting area of the marathon. Our group, a party of four, Stefano, my "younger brother in arms" and me plus our best supporters just arrived. Everything looked well organized, although finding the changing facilities, which were a bit too far away and not well signed, turned out to be a little challenge. Anyway, changing, getting rid of the bag with clothes, a last visit to the toilet, warming up a bit and be back in the starting section in good time to get good starting spots in the foremost parts, before the rest of the approximately 6.500 participants in the marathon show up. Of course, the urge to pee, mostly out of nervousness, just 15 minutes to start and a long queue in front of the Dixies, the two temporary loos in the starting section. Fortunately there was enough space behind the Dixies…
The start signal comes quite stylish from a firing canon that's definitely heard to the last rows of the furthest back starting sections without any amplification. It took me this much by surprise that I started my stop watch right there instead of when crossing the starting line 5 seconds later. It didn't matter that the watch was showing the gross time, since the chip based timing system took care of the real net time. Sunshine and 12 degrees Celsius, thousands of people cheering, loud music on the first km gets you really excited and it's most important to find a pace that carries you over the whole distance, not only the first 5km.Tried to look out for our best supporters, bold red spring cloak, but no chance, people stand in many rows on th esides of the streets. Stefano passed me at km1, he's running in a total different dimension, if he wouldn't be so pale, he'd could be mistaken for a Kenian - well almost.
km3 Erasmus bridge, the landmark of Rotterdam, it's a great looking bridge when seen from far and from the side, running over it, well they could have made it flatter. It doesn't hurt at km3, but when coming back to it at km 25 again, you wish it wasn't there.
km6, the field of runners is so far apart that it's time to form the alliance, i.e. finding a runner or even better a group that goes at the same speed. No 4026 in his black and orange striped shirt was running already a while in front of me, so we agreed to share the pacing and switched the order in two kilometer intervals. A third guy joined in at 9km, but he was more running next to us than in line. Maybe he didn't get it.
km 10 - 15, everything's going smoothly, the sun is shining and there's close to no wind at all, perfect conditions. Our best supporters made it well on time by underground to km14 and were this time very visible - and audible, more of that, well done! Again at km 16.5, since the race course made a loop and comes by the same spot twice. Now it's back for them into the city to cheer for Stefan who's about 4 mins ahead of me.
km 21.1, actually a couple of kilometers before it, things change. It begins, the long slow death. To keep the same pace feels suddenly hard, breathing picks up, kilometer times start to slip towards 3:50 - 3:55mins. At km 24, there are no eyes for Rotterdam's modern architecture and renewed waterfront projects, but all eyes on the ascend onto the Erasmus bridge again (GRmpfh#¤%&/), km-times further deteriorate to 4:10 - 4:15mins. No 4026 is gone, too with a group that picked us up earlier. Lucky guy, hope he makes his 2:40h he was aiming for. He told me earlier. Well, told me is exaggerated, conversations on a marathon race are two word sentences, well placed between breathing in and out.
km 28, the best supporters cheers and scream, no mistake of them, but as runner, it just doesn't feel the same when you know that the 14km to the finish line are going to be… - well - hell. The cubic housing area that was created in the 80's and is a highlight to visit in Rotterdam appear. When thinking about all the walls of the rooms in there, that are equally askew as the outer shape, that made me feel throw up just for a couple of seconds.
km 30 - 40, this is the worst part of the Rotterdam Marathon, well probably of any marathon in general. But here we are out in the green, and spectators are missing. Whereas it would be that part where runners need all encouragement they can get. km-times are in between 4:25 and 4:45mins, other runners pass by, every attempt to follow is stopped by myown tiredness after 100 - 150m. It's not competitng against the others, but rather solely against myself and the clock.
The only good thing, this long slow death comes to an end at km 40. with the finish line this close, the last 2.195km are then never a problem, neither is the cramp that appreared in the left thigh when accelerating on the homestraight, let's pretend it isn't there. When crossing the finish line the clock shows 2:50:01, but it's the net time that counts 2:49:56.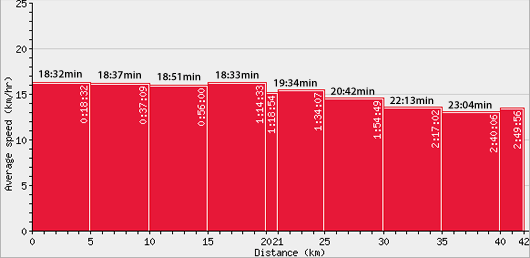 See here for a marathon race analysis in the second part.
Tags: rotterdam marathon