micke-midlife on July 14th, 2009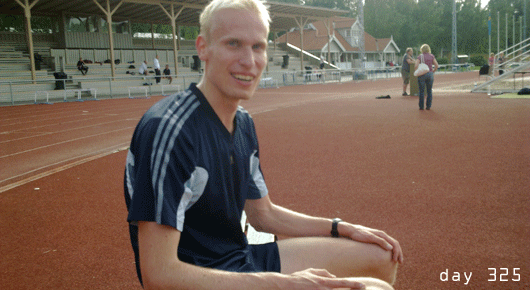 The last of the 400m interval runs was supposed to be fast. The first 14 were all within target between 74 and 78 seconds. The last one was supposed to take it to the next level, i.e. give the muscles a real kick. After all they're used to long efforts at much slower pace.However when running 14 runs at a comfortable level and trying to do the last one differently, it's all too easy to fall back into the same rythm after 100 - 150m. What you need is a colleague who sets the standard. Since there were a couple of runners on the "Eläintarha" track, I thought to ask one to join. Especially this one guy who overtook me a couple of times seemed fit for the job.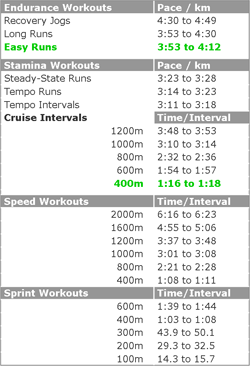 I went over and asked him for a ride. He was first reluctant but when he heard that it's supposed to be in something just below 70 seconds for this one last lap, he agreed. "let me quickly change from my spikes into the trainers", he said. Yeah, for 70 seconds he didn't need spikes. As it turned out he did his 10×400m intervals in on average 58.5 sec, THERE you need spikes.
He was ready in no time and off we went. Acceleration on the first 50m felt ok or actually normal. However on the 100 - 200m stretch the stride felt much firmer and the frequency higher. If I had been alone I had finally slowed down at 250m but with a back in fron of you, you just don't let go. At 320m Tapani was ok with his job and stepped aside. Me panting already to th e max heading down the home straight. Crossing the finish line at 64 seconds. Now, THAT's under 70 sec. Thanks Tapani!
Tapani is running the 1500m with a personal best at 3:48 min. With that he's in the Finnish top 10. He was just running in the Lappeenranta elite competition last Sunday where our Japanese friends ran as well. Perhaps it had been good to know that before asking him to pace. Ah, no, it was a great 15th run!
today's training: 8,5 km recovery run in teh morning; 15 x 400m in 1:16,5 min on average, 16 km including warm up and cool down; 24,5km altogether
Tags: interval training, pace makers