micke-midlife on February 8th, 2009

With the ISPO (= internationale Sportartikelmesse München, international sport goods exhibition in Munich) coming to a close earlier this week a brief round up is at the order. Brief indeed, because it was the ISPO winter, not much running gear there. The biggest headlines generators apart from the shoe and the no-photo-taking-policy company we featured earlier, are technology accessories. Although companies like Polar and Suunto have been around for quite a while and are well established in the heart rate monitoring and workout data business, competition seems to just constantly grow. Timex constantly growing the diversity of products in their portfolio and Garmin enhancing the penetration depth into training companions. Even the Bluetooth SIG (= Standardization Interest Group) now involved with some technology marketing around low power BT.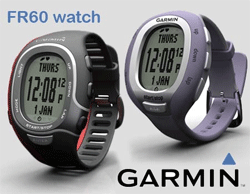 Garmin seems to do funny things nowadays. Just recently they announced a co-operation with ASUS to enter the smartphone market, where everyone knows that it's either a HW volume or web service play. And now this. Known as the GPS and Navigation product company, they launched a fitness watch - without GPS. But rather they use the ANT+ system to connect to compatible devices, such as the optional footpod that measures speed and distance of your running workout (the heart rate belt is always bundled). Only at a second glance this move doesn't seem so stupid after all. The fitness segment is business wise much more lucrative (=larger) than the die hard runner or the "I fight my way through the alps" outdoor freak market. And fitness people cuddle up inside in fitness studios once in a while, there's no GPS working. Quite consequent Garmin, good for you! Otherwise this is a pretty standard sports watch offering at a decent price (USD 199 with footpod, USD 129 without). See the Garmin web page for more details and a techshout news release.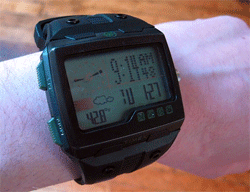 Our friends over at Engadget might file this under better looking, but to us this brick on your arm goes to the terminator category. The brick being a latest Timex device, the Expedition WS4 watch. It combines an Altimeter, Barometer, Compass and Thermometer in one watch, with the ability to display all four elements at once. The watch has a 50mm rectangular face, comes in five resin strap colours and an elasticated buckled strap version. With it's quite  special visual appearance, it's rather different to anything currently in the market (which mustn't be always a good thing). Utility rules. Retail pricing details for the UK were at £150. More details in the blogosphere.

Finally, the Bluetooth SIG wants to conquer other areas of life than mobile phones and PCs and was promoting its Bluetooth Innovation World Cup at the ISPO. A low power technology makes it possible to deploy Bluetooth connections to an array of new gadgets, e.g. shoes, watches, blood glucose meters or if you want your knickers. Go ahead, come up with something crazy, the next economic upswing will come and rip the product out of your hands. Until then you can warm your house with the EUR 5000 prize money for being 1st.
today's training: 4km warm-up, 2 x 6km in 3:38min/km and 3:43min/km, 4km cool down, 21,5km total