micke-midlife on March 8th, 2010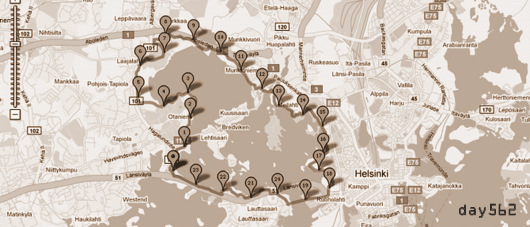 Although not really on top of the game right now, but had to try some longer runs. The training program suggests 30km runs as long ones, well everything beyond the 20k mark sounds sufficiently long to me. Used a bit of a trick lately, running 9 or 10k in the morning and another 15 to 18k in the afternoon, that's 25 to 29k right? Well, I guess I'm mostly fooling myself here. It's week 7 to Hamburg, so high time for some serious training. Tried a longer run in one piece today, about 24k. Well after 18 or so, the engine shut down.
A bit of head wind on the bridge between Ruoholahti and the Lauttasaari island almost got me stopped. And this time it wasn't the strength of the wind.
Ok, it felt a bit tired from the get go today, since the 29k (10k am + 19k pm) yesterday on Sunday were quite an opulent kick start after a week full of self-pitty (blood test results etc.). But thinking about running a marathon in Hamburg with some improvement over last year's in Rotterdam and comparing this to the current 4:30 or 5min/km right now. Well, it doesn't look too good. Further dancing in a 30cm wide and 30cm deep aisle in the snow that's frozen to ice no on the surface by now, isn't what you would call efficient running. The leg muscles do as much stabilization as they work on getting you forward. But the way the energy was suddenly gone tells something about the state of the nation. I meant my level of fitness, sorry, have a slight nag for exaggerations.
Back at home, the queen had made some spaghetti, great spaghetti, with a soya bolognese sauce, some added ham and of course I poured cheese on top. That went in an instant, some bread, yoghurt, banana, topped off with a müsli bar. Of course, my stomach hurt then and didn't like it when the little princess came and suggested jumping onto it…
Tags: long run