micke-midlife on September 12th, 2009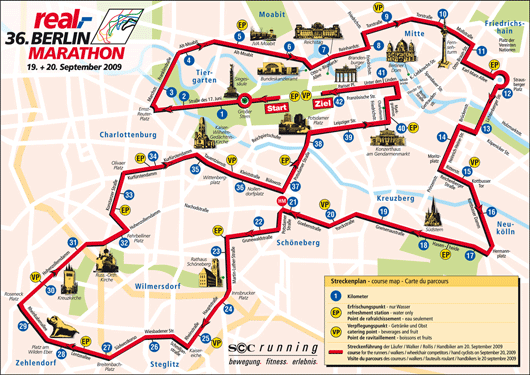 Of course you need a support crowd when going to a race. They cheer when you run by in the beginning of the marathon and are still looking fresh and all full of anticipation. They cheer when it starts to become tough and you shape up just for them when passing by. And they cheer when you could all but cry or are in a delirium between km 33 and 40. Further they help when things get busy at the start, looking after the clothes, calming you down. And they prep you up after finishing, the Coke I got from the queen in Rotterdam after throwing up was the turning point upwards again. In brief, the support crowd is totally essential.
In Berlin the whole clan is present. I'm running together with Stefano, well we stand together at the start, then he shows me his back and finishes 10 mins earlier (the young folk you know, they are always in such a hurry). So his girl-friend is there, then it's my queen, the little princess and even queen mum joins the party.
The Berlin Marathon route should provide good possibilities for the support crowd to see the runners. Of course on a sunny day, there probably are around 600.000 - 700.000 people seeing the event. And the ones who are willing to move around have most probably similar plans. But with some planning this should work out fine.
After the start, the north side of the "Strasse des 17. Juni" requires early positioning,  there's gonna be a big crowd on that side, but the view of that 40.000 thousand runner starter field rolling towards you should be great. Then, prbably a very common move would be to go north to "Alt-Moabit" between km 5 and 6. That should be around 20 mins later. Probably closer to the Bundeskanzleramt, the chancellor's office, there's no residential area there hence hopefully fewer people than around km 5. The next move includes public transport and is going south. Jumping into the S-Bahn at the Hauptbahnhof, chaning to the U-Bahn along the way and coming out close the "Yorckstrasse" around km 20. This should work within 50 mins. It's another hour to the second but last position along "Kleiststrasse". Finally in the finishing area, or if that's not possible, after finishing at one of the meeting points.
Including before the start and afterwards, support crowd and runner's can meet six times altogether (4 times along the marathon route), that's pretty good for a marathon which is not run in 3-4 loops.
today's training: 40 mins light running, 9 km
Tags: berlin-marathon, support crowd