micke-midlife on September 9th, 2009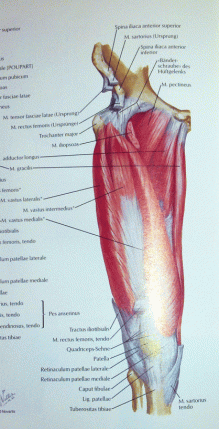 click to enlarge
shit! that wasn't the way I pictured the preparation in the last 10 days for the Berlin Marathon. The hip started to hurt. More precisely the area where the leg is attached to the hip started to hurt, in the picture to the left marked as "Bänderschraube des Hüftgelenks". I came up last week and became painful over the weekend after 35km of running altogether (divided over three runs). The expectation was that after two days of rest it would go over, but it didn't.
Planned a last test for today, Yasso 800's (10 x 800m intervals), since I couldn't go to any good race lately. The yasso's would provide some indication on where we are right now and for Berlin. The first two runs were phenomenal (2:32min), in run three, although the time was still great (2:33min) the left side of the hip started to hurt pretty badly after 600m. Continued, despite it, but run four went only 400m, then I had to give in.
Need to see a doc and tried to contact an orthopedist in the evening, hope to get hold of him tomorrow. This needs to be sorted out asap. Hope it's nothing that prevents me from running.
Tags: berlin-marathon, yasso 800s