micke-midlife on September 18th, 2009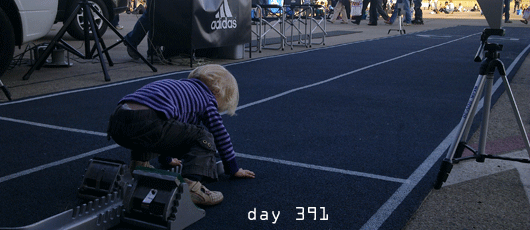 We arrived in Berlin yesterday night with the whole kit and caboodle and mother-in-law. Checked in at the hotel in a central and for the marathon great location. But that's pretty much all there is good to say about the hotel. Whatever, we're not here for hotel experiences but to challenge the clock and of course the 39.999 other runners on a 42.195km course in the streets of Berlin.
In the afternoon it was time to pick up the number bib. The marathon organized the pick-up of starting materials and whole exhibition at the old airport Tempelhof, that closed in October 2008. A great location for such an event. Large halls that were once check-in and gate buildings were filled with company stands and thousands of runners and closest supporters. They limited the free-entry to the runner and two more each, my third gropie (the queen being one, the mother-in-law two), the little princess went under the radar screen.
The more she was on the radar screen on the airfield itself. Outdoors, between curried sausage selling places and beer tents, some sponsors had their activity zones. So did Adidas, a 25m piece of a track with starting blocks and an optical timing system. Only once I showed the little princess how to use the starting block and what to do at "ready - steady - go" she was all over it starting, accelerating and running down the track. Not once or twice, but at least 10 times or more times. People starting watching, she got applause when arriving at the finish and the Adidas folks switched on the timing system. 4.54 sec was in the end todays record in the age class of 2 year olds.
Is the world record on the whole marathon distance really going to be a 2:02:xxh by Sunday this time around? Haile Gebreselassie mentioned this goal somewhere in the media earlier this week and the Rotterdam Marathon winner Duncan Kibet who ran the third best time ever in the spring this year is part of the running fest as well.
And how about our protagonist, micke-midlife? What records are to be broken here? The leg/hip muscle seems fine again, also no infection from the little princess' stomach virus or bad bacteria. You predict a 2:40h or somewhere there. Is it going to be a personal best?A season's best? With all ups and downs in the last almost 400 days, I'd better smile and say, let's see

Tags: berlin-marathon, princess