micke-midlife on August 22nd, 2009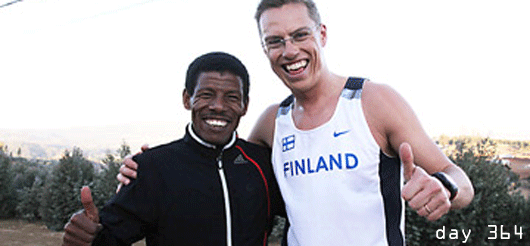 The Helsinki Sanomat ran yesterday an article on Alexander Stubb, Finland's minister of foreign affairs, that he's going to start in the Berlin Marathon in the front row next to Haile Gebreselassie. This was agreed with Haile apparently when Alexander visited Addis Abeba earlier this year. This way Finland has at least one runner in the front row. With the Berlin Marathon one of the best in Europe on several dimensions, there certainly are more Finns in the rows further back.
In order to get some visibility and support from the audience, you Alex could manage to get us some cool Finland running shirts. Finland's brand value is quite high up in Germany (Pisa results, untouched nature and lakes, good looking people, individualism). I for instance was planning to run in the shirt of a former athletic club I was a member of, Hammarby Stockholm. It's the most light-weight shirt I have. But a nice thin Finland running shirt would get higher prio. Then in the finish we could gather around and take a "Team Finland" picture, let's say at around 3:30 - 3:45h after start.
Think it over. Finland's long distance running scene could need whatever support it can get. Every small piece of visibility and cool experiences help. Btw, at the start, have a look around, we might meet there.
today's training: morning 9,4km active relaxation; afternoon 6km, 4km (both 3:39min/km), 1km (3:18min/km) tempo runs, 18.5km including warm up + cool down, 28km altogether
Tags: berlin-marathon