micke-midlife on August 10th, 2009

It's a training session you can really show-off with. There are surprisingly often some kind of runners or colleagues with a passion for endurance sports present at meetings in the office. Today I was quite sure I would get understanding and appretiating nods from all three participants, Mika, Kari and Marko, when I let slip it out at the end of the meeting "in 45 mins it's off to the track, there are some 15 x 600m runs waiting". The reply on Mika's competent question "in what time are you doing those", me in a casual tone: "well, in a 3:12 - 3:15min/km pace". More appreciating nods from the present audience.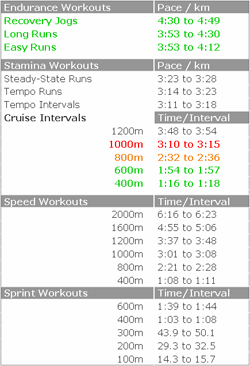 Well prepared with a light lunch and an energy drink in the afternoon I warmed up in trot towards the track. A lot of traffic there on the track but still manageable. A quick change of shoes and voilà, I do look again most pro on the track. That definitely entitles me to chase away children and other ordinary folk who again ignorantly walk on the track's lane 1 without watching out for traffic, i.e. fast runners. A loud "Achtung" usually provides sufficient respect for a while.
600m runs with 200m jogs in between. After 8 of those I felt, that dividing things into two series with a longer rest in between would be a good idea. Admittedly I was getting tired. The first one after this rest in 2:00mins was reason enough to shift gears and see to it that the stretch between 300m and 400m wasn't always slowing down, the last 200m on each effort are kind of a home straight acceleration anyway.
With the last run in 1:52min and an average of 1:56,5, this stamina workout is in the green zone (see McMillan table to the left). Not bad.
Tags: interval training