micke-midlife on July 21st, 2009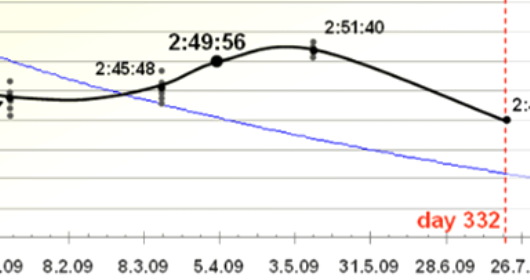 Yasso 800's (the series of 10 x 800m interval runs) provided a first data point since the spring on how we are doing in this quest towards a sub-2:30 marathon. The direction is good again. With an average of those runs of 2:38,7min, this would indicate a considerable jump from the "upwards bump" in the spring. The full progress overview here.
The Rotterdam Marathon and the Helsinki City Run were both quite disappointing, but perhaps they were on the lower side of capabilities.
The series of 10 x 800m interval runs today was good and gave back some confidence. The runs were between 2:33 min and 2:42 min on the track and in quite warm weather. Since it's easy to get adjusted to this interval form of training the Yasso results need to be taken with a grain of salt. Adding a couple of minutes might reflect a more realistic marathon time. Hence this data point is placed at 2:41h.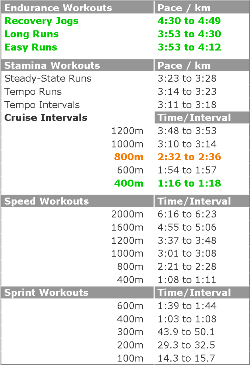 Looking at it from a McMillan point of view, we're not fulfilling the 2:29:59h marathon requirement with those 800s, yet. Which makes sense, otherwise the Yasso test would be rubbish.
It seems to show that long runs, recovery, long and easy runs, and short runs, 400s, perhaps 600s and at some point also 800s are ok. But when it comes to keeping a good pace over a longer distance, some kilometers or so, things turn out difficult.
Tags: yasso 800s