micke-midlife on June 20th, 2009

The bike tour that starts on Monday 22.06. is covered live via the Internet. You can track where are any minute on the Nokia Sports Tracker. You'll see our current position on a map, together with speed and heart rate information. Well never mind the latter, I don't expect readers to go totally excited by looking at my heart rate.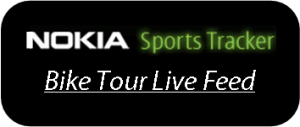 More interesting however could be the pictures and video snippets that we'll take. Those will be minutes later available. A link to the Sports Tracker live feed here. Select from the "Latest workout" section the workout that has the "NOW" label in the Date information.
Further, there will be a selection of pictures and video footage of each day on this blog. The media materials will be available pretty much live as well. A blog entry will summerize the day in the evenings.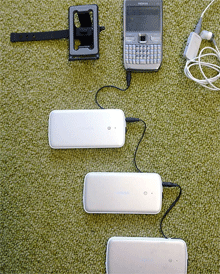 This live link is made possible through a portable data center that's with us on the bikes. This data center consists of a latest Nokia handset, three additional external batteries, the Sports Tracker application and the "Polar for Nokia" heart rate belt and a bluetooth headset. The biggest uncertainties are around how long batteries will last. The data center is continuously maintaining a GPS, a 3G data and a bluetooth connection the whole time we're on the road. Recharing will be possible only during nights. A last system test is performed tomorrow.
Tags: bike tour