micke-midlife on May 14th, 2009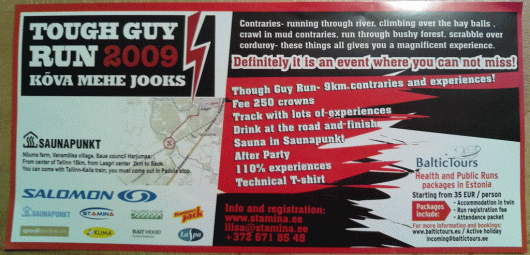 click to enlarge
At larger races there are other event organizers distributing leaflets and infos on their happening. Whereas in the majority of cases the organizing people stand nicely behind their tables full of info sheets and color full material, this guy stood in the middle of the walking corridor through which all 10.700 starting Helsinki City Run were directed to go after having picked up their starting number. He made sure with a broad smile that you got their flyer. Direct marketing at its best. Of course a tough guy marketing the Tough Guy Run 2009. He must be good.
Click on the picture above to have a sharp look at the event description. This is for tough guys only, heavy drinking on the road recommended, then you might be able to finish! After all this drinking you might think it'll be hard to find the finish, but no worries you can't miss at this event. Even after 9km of contraries and 110% experiences. Go for it Tiger!
Sunday June 14 at 1pm, for more details go to www.stamina.ee (ask your Estonian friend help you).
today's training: fartlek 1-2-3-4-3-2-1 min, altogether 13,7km
Tags: Estonia, race, Tough Guy Run