micke-midlife on April 14th, 2009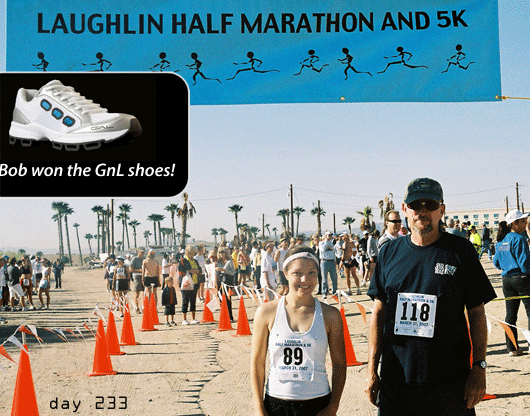 This isn't quite Helsinki beach, although if we continue with our efforts to drive up global warming and down prioritize it over "we need oil now" issues, then we'll get there some day soon.
Anyway, this is Bob who ran track and field already in the 50's. He won the GnL raffle and will be the proud owner of a pair of GnL shoes. He definitely can need them, because of his niece who gets him into really tricky situations sometimes. Here's his story.
I ran track in High School in the late 1950's.  Yes that was a very long time ago.

3 years ago I heard that a niece and nephew were both very much into running and I wondered if I could do it again at the age of 64.  When I first started it was a real chore to do a slow jog to the end of the block.  I kept at it and was overjoyed the first time I ran a mile  without  stopping.  Several months later I learned that my niece was training to run a half marathon.  Well there was a half and a 5K coming up in 3 months were I live,  I told her that I would run the 5K if she would  come for a visit and run the half.  I really did not think she would do it as she had never before come the 600 miles for a visit.  Well she called the next day and accepted.  Then I wondered what I had gotten my self into.

Well I ran the 5K race 2 years ago in 27:56 and was hooked on running.  Since then I have run many 5K's several half marathons and now I am training for a Full Marathon on May 31st of this year.

I would say that getting into this sport has pretty much changed my life.  I am no longer over weight.  I feel better than at anytime in the past 30 years.  And I always have that next race to inspire me on to my long range goal of a Marathon at age 70.
Congrats Bob to both your steady progress on the running trails and the good GnL shoes that'll accompany you for the next 1000km or so!
Tags: Bob's story, GNL Running System