micke-midlife on March 11th, 2009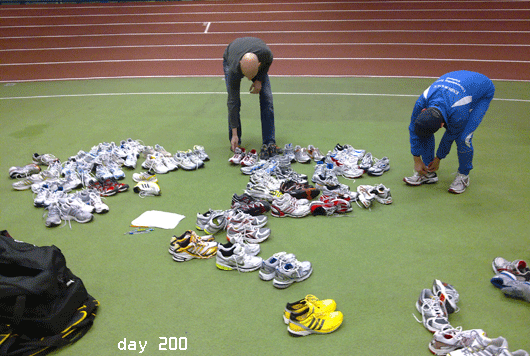 had to change scenery today. In the Helsinki metropolitan area there are two indoor running tracks, the Esport Arena in Espoo and the Liikuntamylly (= "the sports mill") in the eastern part of Helsinki. The Esport Arena has a 400m Mondo track which can be a bit hard on your muscles and especially fibers. Hence, the sports mill it was today. It's only a 200m track there, but there's more of a running-pro atmosphere to it, because all the athletics clubs are there. Coaches are shouting lap times, giving advice on running style, co-ordination or just plainly are  spurring athletes on.
But people are friendly, after asking whether I could do my 400's on the track as well, that was no problem to accomodate. 15 of those were on my program in somewhere around 76 seconds. Need for speed before the next 10k test race on Saturday, the last in the Aktia Cup winter series. This short distance interval training is again more to my liking. You accelerate once in the beginning and then let it roll. The majority went in 71 to 73 secs, and felt good.
Then this one guy came up who was supposed to run a 1000m run in 2:45min, i.e. 5 x 33sec laps. His coach suggested I could pull him on the last 200. Did so, I started to fly - at least it felt so - and pulled him in time to the finish line. Then, I continued for another lap and finished that run in 67 secs. A colleague of the coach came by later on and handed me a season ticket for the sports mill. Wow, I was impressed.
Then along comes a guy with a huge black bag, he stops in the middle of the tracks northern bend and empties the contents of his bag right there. 30 or 40 pairs of shoes hit the ground. He later explained that he's from the Finnish running magazine "Juoksijalehti", they let people try a whole range of new training and racing shoes. Since we had the topic just two weeks ago and there's a racing shoe post in the making, I tried the Adidas adizero adios and the Nike Lunar+. My choice is crystal clear, it's the adizero adios. Although it weighs a bit more (211g) than the Nike Lunar+ (143g), it provides more guidance to the foot, provides a better touch to the running surface (the Nike is quite unprecise here, it feels like you have too thick a layer of soft rubber below your feet) and it's round upwards shaped front part of the sole give a nice feeling of "rolling" when you're in your racing pace. This is it, need to get this pair.
today's training: 4km warm up, 12 x 400m in 73.5 on average, + a couple of accelerations, 3km warm down, 16.5km altogether
Tags: interval training, liikuntamylly, race shoes