micke-midlife on March 24th, 2009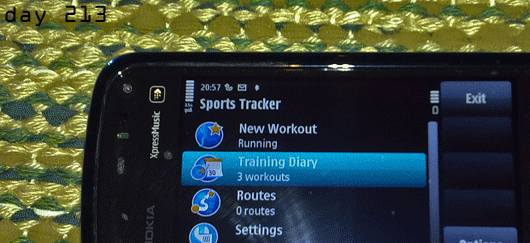 A couple of days ago Nokia released a Sports Tracker application version for the Nokia 5800 XPress Music.  We covered it here at 400days briefly. Of course only the test in real conditions tells us the real deal here. Out we went, a couple of times to see whether the Nokia 5800 Xpress Music could be a real running buddy. To take the verdict right upfront, it works ok, but the N79 Sports Tracker integration is better.
The Nokia 5800 Xpress Music is a more of a multimedia machine than a sports companion. Clearly it has optimzed access to multimedia and communication functionality and there its strongholds are things like flicking through your pictures, watching videos, listening to music, listening or watching podcasts and internet surfing. With a decent pair of stereo head phones on, you can actually enjoy also a longer video feature, such as a film.
As running companion it has all the functionality than the Sports Tracker has on the N79 (which was covered earlier here), but lacks the optimization here and there. It starts with the size of the device, it's a bit heavier and bigger than the N79 and the candy bar form has a slightly different shape in its profile, hence it doesn't glide as easy into the armband. The cord with the attached plektra needs to be removed, it just makes putting it into the armband even more difficult.
Secondly, the touch screen, as nice as it is, it's not optimal for applications where the sense of touch is often more important than visual contact. Hardware buttons are superior in this case. Further, the touch screen has active elements on the UI which can accidentially be triggered while putting the device into the armband. With a bit of experience you get better at it, but it's annoying everytime a screen button is pressed in vain.
Thirdly, smaller details, the camera isn't protected by a slide cover as it is on the N79 and for some reason every time I wanted to take a picture the camera default mode it started with was the video mode, but it could be that you can change that through settings.
Overall, a lot about those weaknesses could be improved in the next Sports Tracker app versions (hint, hint). The way it stands currently, yes I'd use the Sports Tracker app if I had bought the Nokia 5800 XM earlier (and most probably for other reasons). No, I would not buy the Nokia 5800 XM for the reason to be able to track my running workouts.
today's training: 45min, 10 min warm-up and then quite aggressively below 4min/km, on average 4:07min/km.
Tags: Nokia 5800, nokia sports tracker