micke-midlife on March 28th, 2009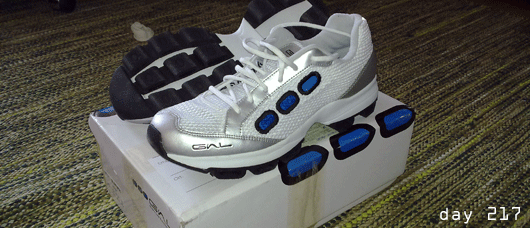 The Swiss running shoe manufacturer GnL AG showed it's product on the ISPO exhibition earlier this year (we covered it earlier), where this pair of shoes spurred quite some interest. Now the intention is to introduce the shoe and its technology to a wider audience and 400days got send a test sample pair.
So what's the deal with these shoes? Quite striking on a first sight is the lower part of the shoe, the sole. It looks almost a bit like someone glued black liquorice pieces to it and walked on them so that they'd become oval instead of their otherwise round shape. But those funny looking buffers are the whole point. GnL, an abbreviation for Glide'n Lock, calls this 3D technology. The idea here is that those oval buffers, nine in the front, four a bit more robust in the back reduce both vertical and horizontal forces that apply when the foot lands on the ground and pushes off again. According to GnL's own measurements their system is superior to other running shoes, thus better protects the runners joints and provides faster regeneration for the muscles. Even runners which have been told to give up running by their doctors could continue with their passion using this shoe.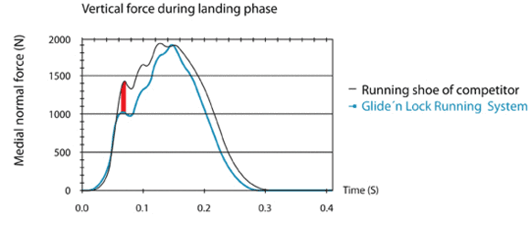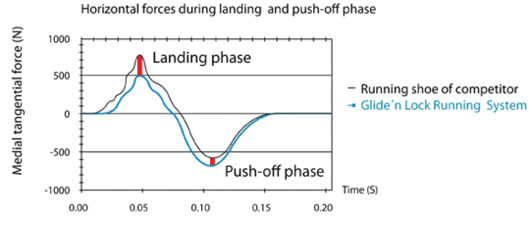 The first impression, having taken the shoes out of the box, is that they appear as rather robust. The upper material is this white synthetic mesh that you find with the majority of running shoes nowadays and silver leather strips that provide stability. The area where your ankle rests is well cushioned and a standard white foam layer is between your foot and the outer black sole. All seams and stitching appear of good quality. No loose threads hanging anywhere, no stitching goes off track. The weight for size UK 9.5 (EUR 44.5) is 360g, so it's no lightweight shoe, but I expect it to accompany my running for at least 1000km. The usual manufacturer recommendation of running shoes is 650 - 900km (As we've seen from the first poll, the majority of people go way beyond that). The gallery below has more details.
Right now, these shoes are available in Switzerland and Austria and GnL's web shop only, they trade for about EUR 160 at retail. Of course, it's cheaper to win them here at 400days! In case a retailer or sports goods importing company is interested, GnL is looking for business contacts.
We'll take them out for a spin tomorrow.
Go to the second part of the review here.
Tags: GNL Running System, new shoes