micke-midlife on February 18th, 2009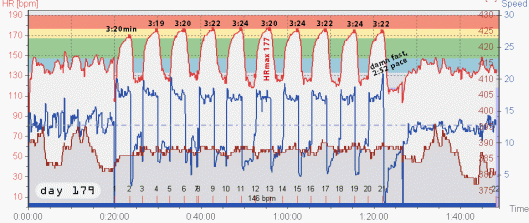 click to enlarge
… everything works a little bit better. It also might had to do with the reduced baggage, at least during warm-up and cool down. Normally we're running with two heart rate systems, the Polar and the Nokia one, and have two pairs of shoes with us to switch when coming in from the outdoor warm-up and going on the indoor track. But today the handset battery was flat and it was dry outside so we decided to reduce the gear load somewhat. A liberating feeling right from the start. Can't wait for the temperatures to go up - still almost -10 degrees Celsius in the evenings - to reduce clothing layers as well.
At the indoor arena, the majority of people are normally somewhat slower and are more obstacle than stimulus. But not today, ample of faster running folk there. I got so enthusiastic by it that I dared to make contact and speak to those strangers, something that rarely happens around here. I guess I outed me as outlandish.
The all in black dressed girl ran 2×2000m and 2×1000m in a 4 minute pace, another guy said to run 8-9 laps (400m) I guess in a 3:40 to 3:45min/km pace and then the guy in the ice-hockey-like shirt who had coins in his pockets and we could hear him getting closer from behind. Must have been 500m runs or so. Thought to ask him what he did, but when I passed him later during a rest period, he just gleared out of the window while stretching and didn't turn his head although I came close by. Doing our own thing is what we're quite good at here in Finland…
Plenty of reasons to keep up the pace today, seemed to have worked.
Tags: interval training