micke-midlife on February 1st, 2009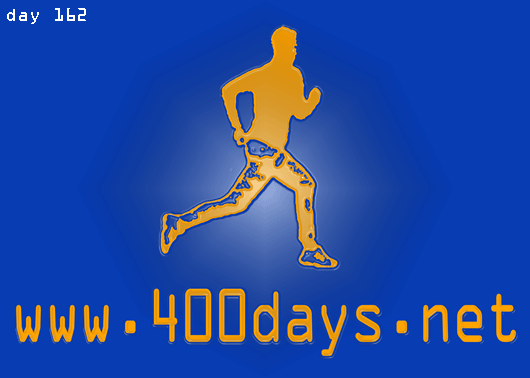 What do you think of this logo? Yes sure, we could have come up with this 162 days earlier. Apart form that, we'd appreciate any comments and especially suggestions for improvement.
The idea in the first place is to have a limited edition running shirt printed, long sleeved, dark blue uni colored, made of those synthetic fibers sports gear is nowadays made of.
To all of you who were scouting for the 400days shirt already on next Saturday's 10k race in Hakunila. I guess, this piece of unique identification won't happen this quickly. Will take another week. But the weather and road conditions are going to be awful anyway. Right now there's snow and ice in the middle and the sides of each lane. And the weather report has more snow in store for Friday and Saturday morning. We're seriously considering to run with spikes. However still, the odds for a next improvement to 35:1x mins are not too good.
Tags: logo, running shirt