micke-midlife on November 28th, 2008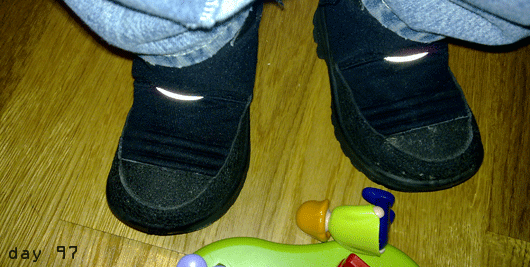 our hero had to pick up the princess from day care today, because the queen had one of her pre-christmas socials. so running after work didn't fit in the normal way. this called for a back to front re-planning of the daily schedule. the trick is thereby to identify the items with no delay (or too high penalty) potential. this definitely requires the black belt of project management.
running with the princess means pushing the stroller. this is ok for a shorter run of 10 - 12km. longer 15 - 20km runs can turn out tricky, i.e. bear too high penalty. if the princess falls asleep, it will mean a hell of a time later in the evening when it's actually bed time - speaking from experience, not to recommend. the other risk is the princess gets bored and wants out from the stroller, not a good service request to get as a running dad while out in the forests. it distorts the coherent running session. so long story short, running has to be separate from the daddy-princess quality time. afterwards can turn out quite late, hence before is the way to go.
consequences on lunch, which is around 11:30 - 12:00, are, not too heavy, not too much. normally it takes 4 hours after a meal to be really ready to go out for training.
the chain off effects:
princess to be picked up from day care before 5pm (hard stop)
driving to day care 20 - 25 mins, 4:30pm to leave from the parking lot at work

showering and changing 20 mins, 4:10pm to be back from the run
17 - 19km run in about 1:20 - 1:25h, to be out at 2:40pm, latest 2:45pm
getting to changing rooms and changing, 10mins
=> keyboard at work to be dropped at 2:30pm, and stick to the salad bar at lunch!
well, in the end the cutlet won in the company restaurant and afterwards there was cake and sparkling wine at a brief celebration at work. the result was felt while out on the running trail. only after 8-9km the blood relocated from the stomch to the legs and helped out there.
but more importantly the schedule held and the little princess learned to put on her shoes during the evening's daddy-princess quality time. next time she gets them the right way round.