micke-midlife on September 8th, 2008

the rough times have started, those when looking out of the office windows at 4pm results in a frown due to the rain drops that have dispersed themselves on the glass surface. sh…, it was supposed to be cloudy but not raining, the weather forecast let us down by a couple of hours, quiet inward swearing at the thought that it's just a t-shirt in the running gear bag. will have to run faster to get and stay warm and to get back out of the rain again. or should we just call it off for today, could run more tomorrow. äh, no good idea, even more rain predicted for tomorrow. and after all it's the beginning of september. if runs are cancelled because of some rain now, what will happen in november when it's dark, around freezing and raining horizontally - definitely being called off then, so let's have some more runs now. and off on the trail we are.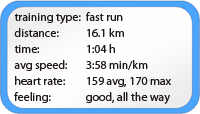 and see, see, yesterday's lazyness paid off, good speed today. long stretches in sub 4:00 min/km speed, this is good, really good. and a lot of girls out there. hm, something to observe, i counted 22 female runners that came my way and only 14 male runners, could it be that the guys shun bad weather, and girls are just tougher? yes, yes, now remembering, there was something on the news about the military complaining that fewer and fewer young finnish males can do a proper cooper test (a 12 minute, go as far as you can test), hm, perhaps they should start recruiting girls soon. need to be further observed in the coming days and weeks.
tomorrow rather easy, 10-12k slow.
Tags: autumn rain, fast run