micke-midlife on September 22nd, 2008

saturday's "battle of arthur's hill" was still in the legs, although on its way to disappear, thanks to a couple of magnesium pills from the boots store around the corner. they were sold as menopause diet supplements. whatever pause was intended, there's no pause for the running visitor in edinburgh and they helped to get back walking again. everything that walks can run as well. peter, who took me on a run yesterday and one of the portobello runners, the local club to be in, said that his club mates would meet at 9am on sundays on the north end of holyrood park road. and there they were. jonny and jacky, willie, his twin brother scott and some more, john joined on his bike, he wasn't quite up for a run after an eye surgery, yet. when we got going, i asked, "what's the route today", the answer was "11″, …… "km, right?", "naa miles"… oh yes, here we go.
km and miles, there is a difference, obviously 1 landmile as we know is 1.609km, so not quite negligible. but the conversion is managable. it becomes more challenging with running pace, when mentioning that 3:35min/km is a really tough speed, the reaction of my scottish running mates was rather blank, same question marks arise on my side when confronted with sub-6 min miles. ultimate global references such as marathon pace provided some remedy and it quickly turned out that a 3 hour marathon is approximately a 6:50 minute mile or almost 4:20 min kilometer. equally is a 2:30h marathon run in just above 5:40 minute miles and 3:33 minute kilometers.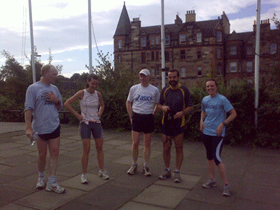 having sorted out this difference of crucial running language, there was an 90% understanding between my scottish running friends and me, 10% being the scottish accent…
naa, it wasn't that bad, only to a few sentences i nodded in apprehension, while having not much of a clue what was said. willie and scott, the 50+ year old twin brothers still do their 10k's in 36 mins and jacky, a genetic scientist thinking about doing a phd, just had her personal best reduced to 40 mins on the last weekend. she explained whereabout in edinburgh we ran, since i pretty much had lost my sense of orientation. the main part of the run was in the blackford forest (i think) south of edinburgh leading to some river and a canal back towards and finally along the meadows. very nice trail and compared to the previous day rather flat.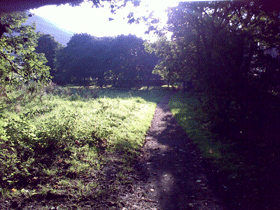 running with the portobello runners in ediburgh was a great experience and a good way to better get to know the town, the surroundings and the runners. thanks guys. altogether with running from the hotel to the meeting point and in the end the same little stretch back again it made 26km on that day. not bad at all. enough to take a taxi for the healthy beakfast option in cafe Giles Street half way up castle rock.
Tags: blackford forest, portobello runners, running in edinburgh