micke-midlife on September 14th, 2008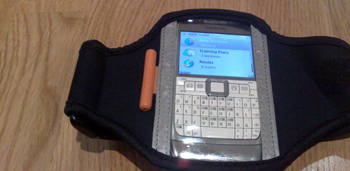 is it only this urban, rich, young, design worshipping herd that's supposed to be healthy and running? or is it that just these folks have such socially deprived lives and that's why they dragg their gadgets with them wherever they go? anyway, try to find an armband on the internet that doesn't have the iThingy in it's description… the good thing is, the majority of those (not the ones for the nanos, though!) carry well almost all nokia mobile devices as well. in the picture, it's the nokia e71. will write about how running works out with the armband. some initial tests have revealed that holding the handset in the same hand where the polar heart rate monitor is wrapped around the wrist, might result in the heart rate monitor's disruption in it's connection to the footpod. so the armband most probably will go on the right hand side. the idea is to have the nokia sports tracker application open to record the location of the run and plot it on a map later on. many of the workout summary diagrams here in the daily entries of this blog are linked to the running route, click on them.

the third week was a close copy of the second week, both in its intended program and in its fulfillment. i.e. many runs went well, the interval training is still 2 runs short and the sunday training was left out again. monday saw a good 16.4km run in sub 4min with repeatedly longer stretches in the 3:45 - 3:50 area, that felt really good. tuesday was rainy and cold and the running distance was limited to the absolute must. on wed it stopped still 2 runs short of the program, those 1000m intervals are a psychologic thing, 30+ laps on the track… fortunately the next weeks foresee shorter runs on the track. thursday the long run, ok. and saturday, was way too tired from the week to run properly.
the fourth week is supposed to be slower to re-charge. about 60km altogether without the faster sessions. suits me.
Tags: armband, nokia e71, third week