micke-midlife on August 30th, 2008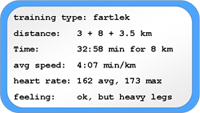 damn, in this third week of harder training - yes, I started the training a bit earlier in order to think about this experiment and whether it makes sense at all (now having committed to it and one week later, i'm not quite sure it does) - the performance goes the other way than i'd like it to go. a couple of weeks back, i was able to run a whole 16,5 km in 4:05 min/km, now the 8km speedier part of the 14km run didn't even go as fast and were on a 4:07 min/km average. the thighs still keep me remembering the 21km run on thursday.
runner's world recommends in this case to slow down and rest… ha, they have not counted with the dedication and determination of our micke-midlife, no, no rest, yet, and hey, the girl on the picture in their article looks so eighties anyway. anyone could think the training theory might stem from the same times, too! update the pictures and we might start believing you again!