micke-midlife on July 11th, 2009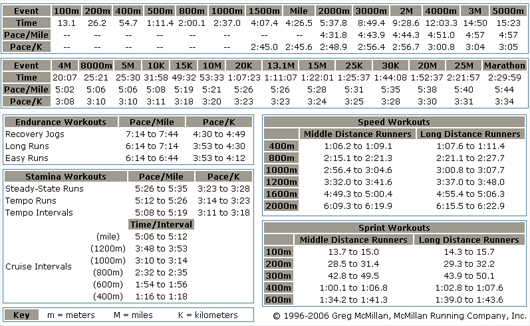 Could those training and race pace times the real reference for a sub-2:30 marathon? A couple of month back a reader here on 400days pointed to McMillan, a US coach's web site with lots of good stuff on long distance training. He thoroughly goes through running physiology, different training forms and how to build your own training program. A basic ingredient is the McMillan race and training pace calculator that provides you a recommended pace for different runs in competition and training. You enter a recent race result that you are quite content with and hit the "calculate" button. I turned it a bit around and entered the result I'd like to achieve, a marathon in 2:29:59. The pace results were, well, let's say intimidating.
Take cruise intervals for instance, those which are done 8 to 10 times with a 2-3 minute jog in between. Up to 800m they look ok, but all above that is still quite a bit away from where we are right now. Even worse are tempo intervals, 2 to 4 repeats lasting 15-20 mins at the 10k pace. Hm, the first observation is that my 10k pace based on this years results is somewhere around 3:30min.
The question is now more, how to get to those paces in the coming 10weeks. It could well be just a state of mind. When running for a longer time you feel that a certain pace improvement is possible if really pushing it out. But this feeling is based on empiric input, i.e. what happened to have been achieved in one's own training. What if a "must reach" training pace is given and is tried to be achieved over and over again. It might be successful in the first cruise interval attempts perhaps only once or twice of the 8 to 10 repeats, the rest might be slower, but the body gets to know what actually required and might quicker adjust in order to do all repeats in the aimed pace in the end.
Admittedly, this approach doesn't take much of that listen to your body into account, at least less than the bit by bit approach. The risk of injury increases as well, warm up and cool down and stretching increase in importance. But sometimes I feel that body signals are all too easy misinterpreted. I.e. it's too easy to say ok, that's as good as it goes today, but in fact it could have gone a bit better. And on the mental side it could be a bit frustrating at first (only one of 8 runs in the targeted pace) but better than ailing at lower paces and not reaching the goal in the end. What do you think?
Tags: McMillan, trainng program