micke-midlife on February 23rd, 2009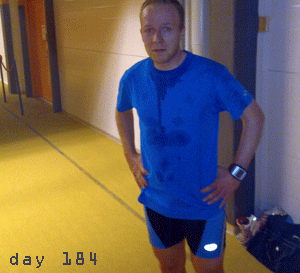 The 55 laps on the indoor running track got boring after about 10. So I joined the training session of another fellow, who was running approximately the same speed. That's the advantage of going to the indoor track, you always meet people you can hook up with - well, running wise of course.
Jarkko, a SW engineer at F-Secure (=keeps your PC safe from viruses and all sorts of scum that creeps from the Internet down through our MBit DSL lines). Anyway, he's quite a versatile runner, too. Everything from the 1500m to half marathon is on his calendar this year. And with the latter one in 1:15h, he's looking at quite a decent challenge as well.
The fun with running together is that you can chit chat a bit. And the best, with the running pace you can adjust how much is said. Jarkko probably didn't like what I had to say. He got me quite single worded as we approached a pace of 3:40 min/km. But he could still talk to me and gave me a couple of wake up calls. First, he let me in on the inner lane of the indoor track being just above 390m not 400m. So much about recent celebrations of extraordinary interval run series. The line between lane two and three equals a 400m lap. Secondly the training program with 100 - 120km weekly could be a bit on the lower end what's required for a 2:29h marathon. Hm, he could be right there.
Fortunately we didn't run more than 6km together. Those were enough truths for the day.
Today's training: long run 30km in 4:22 min/km, partly indoors