micke-midlife on June 7th, 2010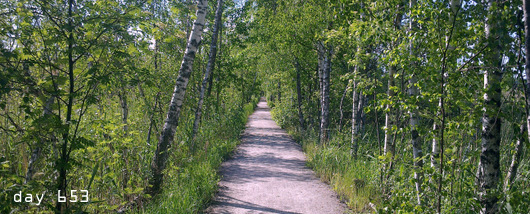 Back on the trail. The whole month of May was off. Mainly off, some sporadic runs when bad conscience hit me after an evening with too much chocolate or a whole bag of Katjes Joghurt Gums disappeared in one go. Neither was there much interest in blogging as you could see. Anyway, it's now time to turn the head and look ahead at what's coming. A great summer with a lot of sunshine and shorter runs and then in September the last attempt at the whole distance in Berlin, of course.
By the way, speaking of shorter runs, tomorrow is the next Self Transcendence run in Helsinki. A 2-miler. That's nice fast food. Can be well integrated into training. Running from work at about 6pm to where the run takes place is just above 5km , then a warm up lap (one mile) with the guys who gather up there. Then the run, 2 miles (3,2km) and 5km back to work. About 15km with a fast bit in the middle. This makes a great training session.
This week's going to be basic runs (15 - 18km)  all way through, all the interval sessions and similar start there after again. Also what summer races to run, 10k and half-marathons need to be decided. Suggestions welcome!