micke-midlife on January 8th, 2009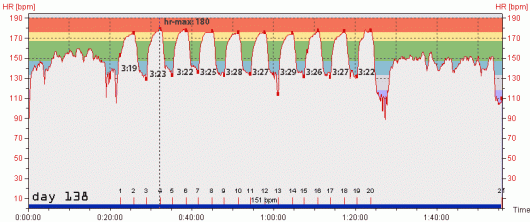 click to enlarge
todays interval runs where from another planet. perhaps it was too much energy drink beforehand. or the inside arena with all the other people around. was it the race shoes? or just the fact that there weren't two, three layers of clothing? was it the tough training last week? or just the new hair cut? no clue, but the runs were at a level where they haven't been in a long time - for the last 12 years.
quite many changes in the system, hence the reasons are hard to trace. whatever, psychologically those runs were great! the training program said 10 x 1000m intervals with 3 minute rests in-between in 3:29min each. the first one at 3:19min didn't even feel difficult, had to remind me of slowing down a little on the second one which turned out to be 3:23min. the first 200m always starten in 38 seconds, which would point to a 1000m time of 3:10min if run in steady pace. it's still difficult to hold the horses in the beginning. run 3 through 6 were an average of 3:25min, then it wasn't the breathing and heart providing the body with oxygen but actually the muscles that showed signs of being the limiting factor, the calves started to become hard. quite a new experience. took it slower on run 7 with a 3:29min, the only effort in the target time. the rest, efforts 8, 9 and 10 again way above, ending with a 3:22. earlier interval runs in the fall on the outside track were all above 3:30min and never 10 efforts. this session was so cool!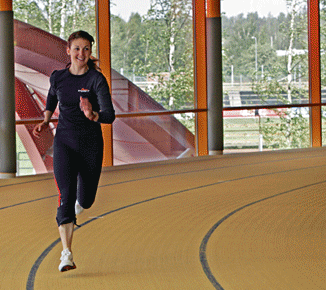 the esport arena is a private run sports arena in espoo, west of helsinki, finland. the complex hosts all sorts of sporting facilities, a 400m track as well. traffic on the track wasn't too bad, but they should recommend some track rules such as jogging and slow running on track 2 - 5, not track 1, to avoid injuries. it got pretty close once. the problem in the first place is not the slow running, it's the unpredictability of the reaction when one arrives at high speed from behind and shouts out "watch out!". fortunatly no-one was wearing spikes today.
the pricing is ok, EUR 60 for 10 times access to the track and you can use the sauna facilities afterwards. didn't make much use of that part. warm up was running the 4km from work to the arena, cool down was running the same distance back again. to save time and be home before 8pm. 23km altogether, really good session today. this builds up excitement for the next 10k test run in roughly a week's time.